Dear Cherished Clients and Partners,
We recognize that with the constantly changing COVID-19 situation around the world, this is an unprecedented time for us all — a time that, for many, is filled with uncertainty. Our hearts and thoughts go out to each and every one of you.
We want you to know you have our commitment to continue providing the "BOA" service with trucking and warehousing as we have done for over a decade. BOA's mission statement is paramount now more than ever… "We are the protectors of clients dreams by getting their creations to market at the right time for maximum effect." As a valued customer you have access to our whole team, software, and communication channels.
In response to the current crisis, we've implemented our business continuity plan:
– We have kept all of our employees on the frontlines to help keep the supply-chain moving
– Our phone and email channels have not changed
– By using technologies such as Microsoft teams, zoom, uber conference or skype BOA can continue to work cohesively as a team and also meet virtually with any of our clients or vendors
– Our warehouse and asset teams are still in place as freight must move !
– Domestic and Global teams (Dry and Cold Supply-Chain) still working round-the-clock
– All management team (including Walter and myself) are available for game planning, consultation, and forecasting at no extra charge
Firstly, our plan ensures the safety and health of our employees, so we can continue to deliver and support the services you have counted on. Considering the most recent and up-to-date news from the CDC and the World Health Organization (WHO), we have made the decision to have our staff in both office and warehouse who can perform their jobs remotely, work from home until March 30th, with a re-evaluation as we get closer to that date. We've also allowed sick leave or PTO for our employees should they need it, and we've temporarily suspended business travel.
We know the impact of global health has an impact on hourly employees around the world. This is why BOA is continuing to pay our hourly service workers during this work-from-home-period. We are proud to support them in this critical time. We need everyone from office workers, dispatchers, loaders and local drivers to feel secure here at BOA.
With everyone's participation we can do our part in slowing down the spread of COVID-19. Here is a link to what we need to do https://www.cdc.gov/coronavirus/2019-ncov/prepare/prevention.html
1) Social Distance– this means avoiding places that have crowds of more than 10 people at a time and keeping a 6 foot distance minimum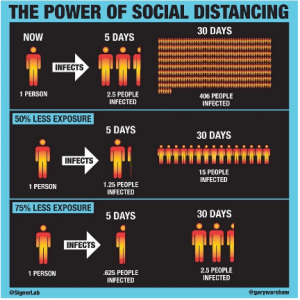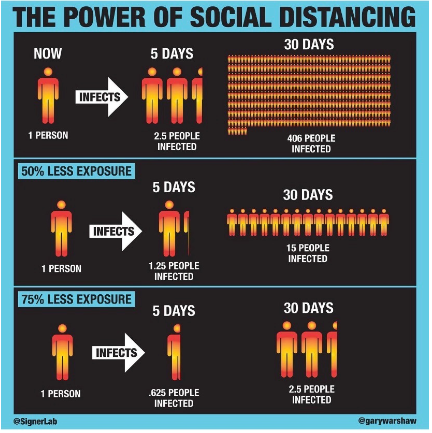 2) Clean your hands often– every time you enter the office or leave ( coming home or leaving home) wash your hands and/or disinfect with sanitizer
3) Avoid close contact– Now is the time to stay at home and avoid contact with people who are sick
4) If you are sick, stay home
5) Cover Coughs and sneezes with your inside of your elbow and not your hands
6) Disinfect and clean regularly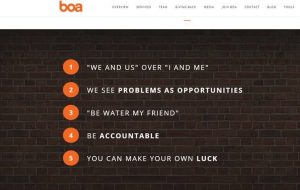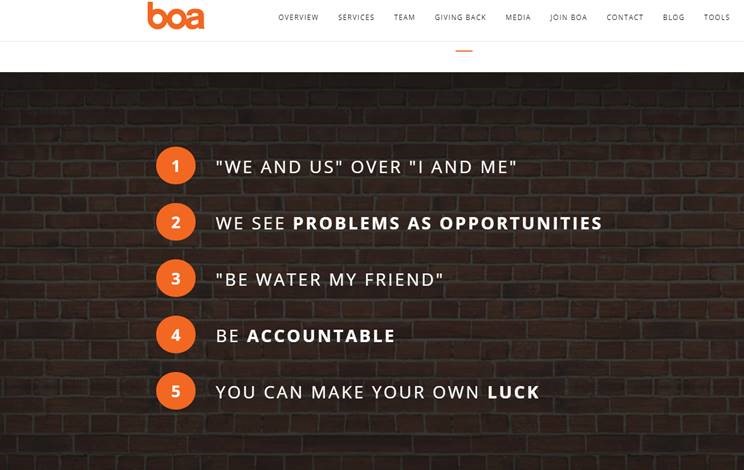 It's in these critical times where companies must stand behind their principles. All of BOA's core values can play their part during this COVID-19 crisis.
1) We and Us over I and me– We are all in this together whether we know it or not. The enemy is not a nation, a war or terrorism, it's something that is unprecedented. We need each other's help now.
2) We See Problems as Opportunities– BOA has not stopped shipping. We are an "Essential Business" , or a business that the public rely on day-2-day life. Although the future is not certain, BOA is working around the challenges to make sure your product lands where it is needed most.
3) Be Water my Friend– Bruce Lee's quote basically means we need to be flexible in times and adapt to uncertainty.
4) Be Accountable– This hits home, because we have to be accountable for things that happen to us whether it is our fault or not
5) You can Make your own Luck– We have some control over how this affects us. By following the above action items we can help "flatten out the curve" for the United States.
We need everyone's help during this crisis time to be vigilant on being true partners as we battle to contain this epidemic. We are protecting America's economy by the flow of food and products. If there was a time for glamour in logistics, it is now. This is an extremely fluid situation and therefore it is difficult to have clear vision on what is the right course of action but as of now we will take one day at a time. Our senior leadership team remains at the helm and is keeping watchful eye with the situation in real time.
Please be safe, be patient, and let's stay positive.
P.S. It's easy to get up in the hype, there has been some serious strides in progress. Please see the list below and the links to the information.
-China has closed down its last temporary coronavirus hospital. Not enough new cases to support them.
– Doctors in India have been successful in treating Coronavirus. Combination of drugs used: Lopinavir, Retonovir, Oseltamivir along with Chlorphenamine. They are going to suggest same medicine, globally.
– Researchers of the Erasmus Medical Center claim to have found an antibody against coronavirus.
– A 103-year-old Chinese grandmother has made a full recovery from COVID-19 after being treated for 6 days in Wuhan, China.
– Apple reopens all 42 china stores,
– Cleveland Clinic developed a COVID-19 test that gives results in hours, not days.
– Good news from South Korea, where the number of new cases is declining.
– Italy is hit hard, experts say, only because they have the oldest population in Europe.
– Scientists in Israel likely to announce the development of a coronavirus vaccine.
– 3 Maryland coronavirus patients fully recovered; able to return to everyday life.
– A network of Canadian scientists are making excellent progress in Covid-19 research.
– A San Diego biotech company is developing a Covid-19 vaccine in collaboration with Duke University and National University of Singapore.
– Tulsa County's first positive COVID-19 case has recovered. This individual has had two negative tests, which is the indicator of recovery.
– All 7 patients who were getting treated for at Safdarjung hospital in New Delhi have recovered.
– Plasma from newly recovered patients from Covid-19 can treat others infected by Covid-19.
https://informationisbeautiful.net/visualizations/covid-19-coronavirus-infographic-datapack/
Get a Quote Now