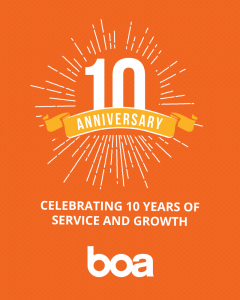 Today, January 25th, 2021 marks a unique milestone in our journey together. 10 years ago, BOA Logistics became an official company registered in California. We still remember the day that we received a small UPS package with a black folio, and a paper certificate with a little seal that said BOA Logistics. Opening that package in our little 200 square foot office (notoriously known as the Tito's Tacos office) that was technically a converted room in a very old and dated apartment complex, I remember thinking, "Wow, it's official…hope we make it to next year."  Little did we know about all the twists and turns that we were about to experience in the coming decade.
Much of our staff has been with us for 5 years or more, a few since the beginning.  We've seen many morph into leaders and decision makers, adding their own personal flavor to our cultural melting pot.  They have contributed to elevating and growing our company, but in turn, have grown as well. We are proud.  We are grateful.  And, we welcome our newer team members, including those in our extended BOA family:  BOA International, Logica Trucking, and Flow Cold Storage.  We're ready to flourish in the future, together.
In many ways, it took us 10 years to learn, albeit sometimes the hard ways, how to expand and mature into a company that could support all its subsidiaries and individuals. In addition, the amazing part of growth is the connection to new people with wonderful and different ideas.  We know that our new team will bring new philosophies to our current staff while potentially learning from our tenured team members, potentially enriching their lives as well.
For all the people that previously worked at BOA, especially the first few years, we salute you. It must have been hard to deal with an emerging company with many trials and tribulations as most young companies go through. Regardless, we learned from each of our past team members, teaching us lessons or giving us perspective, all of which are completely priceless.
In the past 10 years, BOA has:
Moved into 6 different offices
Created 6 new working departments: Volume, Refrigerated, International, Asset Management, Warehousing, Data / Analytics, and Strategy/Marketing
Recognized 6 years in a row as an INC5000 Honoree

 

Recognized 5 times as a Top 100 company by LA Business Journal

 

Converted to a remote-work team and maintained quality of work
Created two intellectual software programs: an application for Claims prevention & management and our own internal routing & consolidation platform
Created Logica, a Nationwide LTL Refrigerated Trucking company
Started a 55,000 Square Foot Cold Warehouse, Flow Cold Storage
Worked through 3 major industry catastrophes: ELD's, California AB5, Trump Tariffs
Survived 2020, one of the worst years in modern history: Covid-19 global pandemic, Government shut-downs, social strife, political instability, port congestion and driver shortages causing major bottlenecks in all industries
Launched 4DX program for all our companies to push and grow everyone's potential
As you can tell, BOA is not the same without our people, past or present. We could not have made it this far without you. If there is one thing that this COVID-19 pandemic has taught us, is that taking away people's ability to connect has dire consequences. We cannot act as silos nor live on islands. Instead let this be a reminder that we all need each other to grow.
Gratitude and well-wishes to all of you. Here is to the next Decade together… Cheers!
Matthew Mugar and Walter Lopes
Co-Founders, Boa Logistics
Get a Quote Now