Transloading has become an increasingly common way to ship goods in recent years, thanks to increased international trade and growth of online commerce. If a shipment is traveling a long way from the port to the final destination by truck, the shipment will likely go to a warehouse, and transload the cargo into a truck to avoid expensive per diem charges.
What Does Transload Mean?
Transloading is the process of moving a shipment from one mode of transport to another form, for example, moving from an ocean container to truck or rail.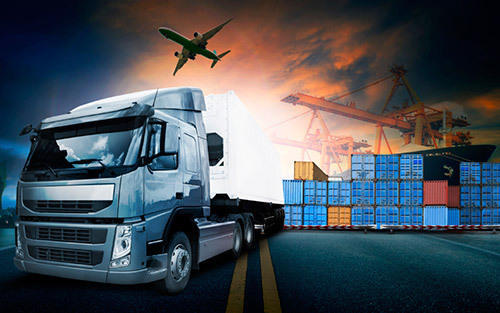 The most common use of transloading is when a container is picked up from port, brought to a warehouse, unloading it, and then reloading the cargo into a truck for final delivery.

If a shipment is going to multiple locations, a "transload fee" that gets applied is typically to cover the labor for de-consolidation at a warehouse, palletizing the freight and loading it into the trucks for final delivery.
Why Transloading?
Most freight is now shipped in rectangular steel boxes that are either 20 or 40 feet long, although other lengths also exist. These containers are intermodal meaning they can be moved from trucks to rail to ships and back again as needed.
Transloading is common for shipments that have multiple warehouse locations that require cargo be palletized. This standardization has greatly increased the use and efficiency of transloading. Today's commercial ships are usually huge, purpose-built container ships that carry goods across oceans internationally.
Transloading helps companies move goods and shipments by providing a range of benefits. It is a unique method that can be implemented at anytime in your logistics strategies to help ensure products arrive at their destination at the desired schedule. Some of the benefits of transloading include:
– Helping reduce overall shipping costs
– Facilitates the movement of goods between different transportation methods
– Allows for faster and more efficient shipments
Types of Material Transported using Transloading
Transloading methods allow you to transport without material restrictions. Transloading techniques may be used by a wide range of industries, including aerospace, military, communications, construction, chemical, food, retail, and other sectors. The following are some examples of common items that might be sent using transloading:
Building Materials – Including pipe, lumber, metal, and bricks.
Household Goods – Such as floor tiles, boxes, parcels, clothing, furniture, and electronics
Large Items – Wind turbine blades, transformers, machinery, military equipment
Food and Liquids – Including packaged, canned, frozen, beer, wine, and seafood
Specialized Freight – Hazardous chemicals & materials, cryogenic materials, temperature-sensitive shipments

Transloading Service
BOA has a team of experts in drayage and port logistics, working to keep your freight moving. Contact us for transloading services and to find some opportunities to streamline your logistics!
Get a Quote Now