How complicated can a temperature controlled reefer be? Isn't it just a trailer that runs like a refrigerator?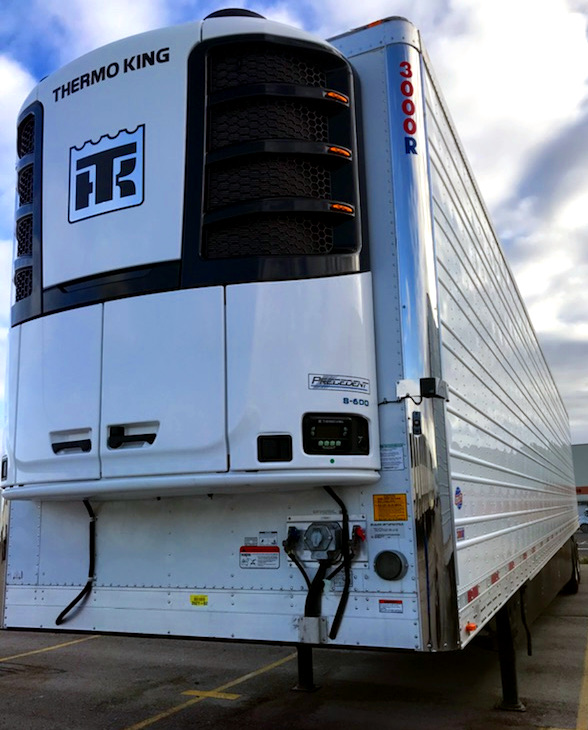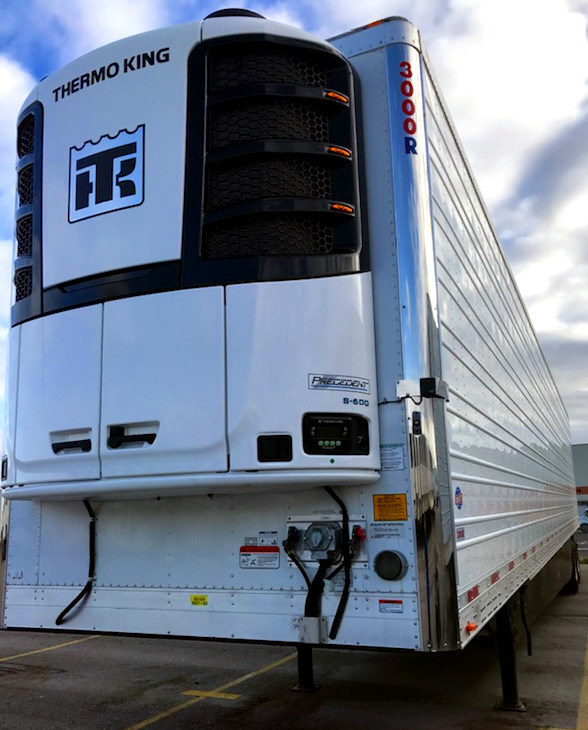 Image: Utility 3000R with Thermo King S-600 Reefer Unit
True, to a certain degree. There are a lot of variables when it comes to a refrigerator that moves through different weather, varying temperatures from day and night, and how well the product holds the temperature.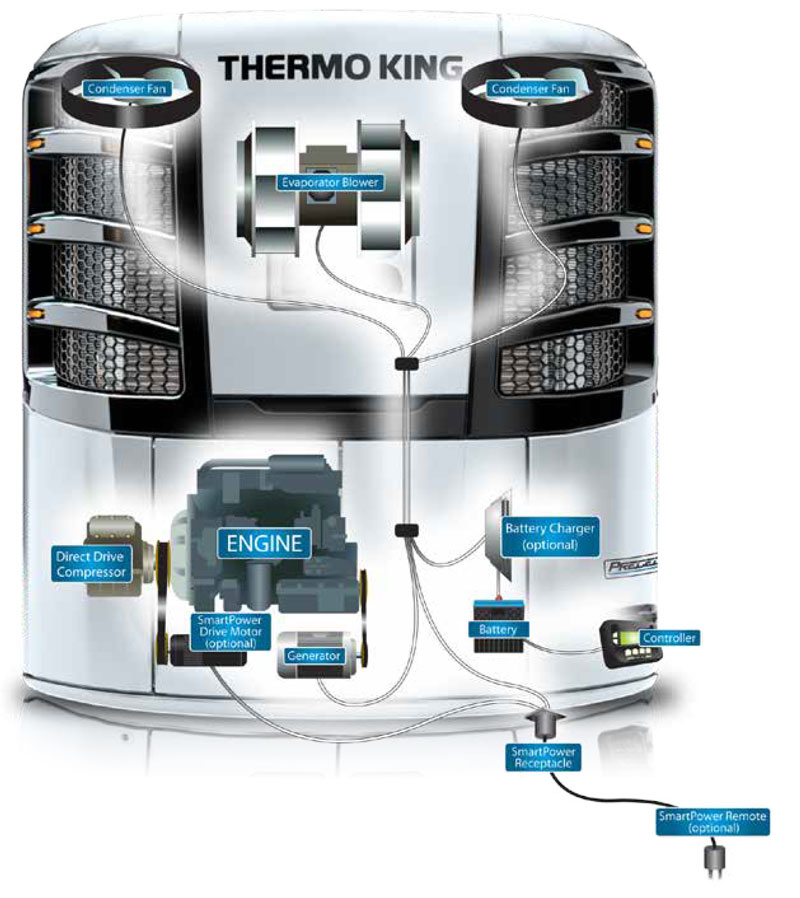 Image: Thermo King Precedent S-600 by Thermo King
Types of refrigerated Temperature settings: Continuous & Cycle Sentry
Continuous
Although this is energy intensive, it provides the most protection of your product while in transit. The produce industry requires that the continuous setting must be used when transporting fruits and vegetables. Produce needs continuous air flow to handle the product respiration and to keep consistent temperature throughout the trip. The reefer unit would have a "Set Point" that is manually set by the driver, and have it run at the specified temperature as instructed on the Bill of Lading (BOL) to prevent product damage.
The continuous setting will have a defrost cycle to remove ice or frost buildup from the coil. These units typically have an automatic defrost based on the temperature difference it detects, but otherwise would run a cycle every 6 hours by default. This should not affect the product being transported since the ambient temperature will change faster than the temperature of the product, and the cycle would shut off before it becomes a problem.
Cycle-Sentry Mode
Commonly used to transport chilled and frozen products, this setting saves fuel and reefer hours. Carriers prefer this setting since it extends the life of the reefer unit, which is fairly expensive to maintain, repair and eventually replace. The driver would set a temperature, and the reefer unit would turn on and shut off as it automatically manages the ambient temperature of the trailer.
Running the reefer on cycle-sentry has risks associated with it, since the temperature would have minor fluctuations as the air isn't continuously flowing. To mitigate some of the risks of running cycles, one method would be to have the reefer unit run every "x" minutes for "y" minutes regardless of the current temperature. This would in turn, still save significant fuel and reefer hours, while keeping the product being transported at temperature.
Tips Moving Temperature Controlled Freight
Frozen products generally stay cold longer than chilled product without the refrigeration unit running, which in turn leads to less fuel usage and fewer reefer hours being used.
Transporting product that is refrigerated, but not frozen, through areas with freezing temperatures, the trailer is actually heating up the trailer to keep the product from freezing.
The frequency of opening the trailer doors will affect the temperature, and may cause fluctuations on the temperature recorder. This will happen when there are multiple stops.
To move refrigerated freight in California, the reefer unit must be CARB compliant. Most approved units have 7 years of compliance before it needs to be replaced, and some units are approved for its lifetime because the emissions meet the special requirements of the regulations.
How Often Should I Check the Reefer Temperature?
Older reefers need routine servicing usually every 1,000 hours, while newer ones need to be serviced at least every 1,000 hours. The reefer temperature should be checked regularly, to make sure the correct temperature is maintained.
My Reefer Keeps Defrosting, Why?
When using the proper practices for a reefer truck, the reefer unit will automatically defrost at certain coil temperatures. A manual defrost reset should only be done when box temp is below 40° Fahrenheit. When this happens, it will shut itself off when coil temperature reaches 55°.
As mentioned before, the two types of refrigerated temperature settings are continuous and cycle sentry. Even when your reefers defrost cycle is on continuous setting, the unit will auto defrost based on a temperature difference across the coil. It does not change the product temperature due to most reefers having a very high heating capacity. The time of a defrost cycle is not large enough to affect the products temperature.
Reefer Trailer Temperature Range
The temperature inside a reefer truck can be extremely cold. A typical reefer truck has a refrigeration unit that keeps the cargo at within a range of about -13 degrees to 77 degrees Fahrenheit. However, there are also highly specialized refrigeration units, reefers typically used to transport items such as those in the medical or chemical industries, that go as low as -85 degrees Fahrenheit. This means that the cargo inside the truck is kept at a constant temperature for long periods of time.
Some reefer trailers can even accommodate different temperatures in each zone of the truck, allowing drivers to haul multiple types of goods at once.
Do Reefer Trailers Heat?
Yes, reefer trailers do heat! With a reefer trailer, not only can you keep your items cold, but it can also heat them up in the coldest days of winter. However it is much less common for reefers to be used to keep items heated.
How Cold can a Reefer Trailer get?
The average reefer trailer can get down to about -13 degrees Fahrenheit, but some specialty units can go as low as -85 degrees!
How Hot can a Reefer Trailer get?
As for how hot a reefer trailer can get, most units don't need to go about 70 degrees Fahrenheit, however, there are specialty units that can go higher, but they're not as common.
Frequently Asked Questions
How long does it take a reefer to cool down?
With the doors closed, the average reefer takes around two hours to cool down. If the outside temperature is extremely hot, it can take a longer time.
Do reefer trailers control humidity?
In addition to their temperature controls, reefer trailers to have the ability to control humidity.
Need Refrigerated Trucking Services?
BOA Logistics values and treats a customer's freight as our own and always emphasizes the instructions on the Bill of Lading (BOL) to all carriers. We truly believe in our company mission statement:
"We are the protectors of clients' dreams by getting their creations to market at the right time for maximum effect."
Partner with us today, we have the solutions for your freight!
Get a Quote Now